Welcome to Ringba's first episode of "The Pay Per Call Report" for March 12, 2021, brought to you by
OfferVault
.
Visit the Ringba blog for direct links to this week's top offers, networks, and more:
https://www.ringba.com/blog/the-pay-per-call-report-march-12-2021
Top Categories
Home Services continues to dominate affiliate interest, remaining the number one pay per call category for the previous three weeks, closely followed by legal and insurance.
Due to the extension of open enrollment, Ringba has seen larger than normal activity in the health insurance and medicare supplement insurance categories for this time of the year. Buyer demand remains strong and we fully expect this to continue as shoppers are looking to save as much money as possible during the pandemic.
Automotive insurance pay per call activity has slowed due to buyer's organic and internal marketing channels filling call center capacity during tax season. We expect volumes to recover within the next two weeks as consumer demand normalizes.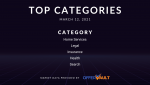 Top Offers
Not surprisingly the number one offer this week is Vivint Home Security from American Classified Services, and in a strong second place is an exclusive IRS tax debt relief campaign from Aragon Advertising. Based on platform call volumes we expect tax and debt consolidation related offers to continue to perform strongly through the end of tax season and into spring.
Motor vehicle accident and personal injury calls driven by search traffic volume are also growing. Advertisers are hungry for what seems to be an unlimited amount of high quality inbound calls and transfers in these verticals.
With the loosening travel restrictions in the United States, we continue to see a recovery in the flight and hotel booking categories and fully expect these to continue to grow as pent up demand for travel and vacations will need to be satisfied.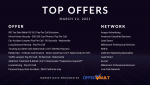 Top Networks
Congratulations to Matthew Zivkovic and the Lead Smart team. They have held the top spot for most searched pay per call network for three consecutive weeks with 52% more searches than Aragon Advertising in the number two spot. All five top pay per call networks this week are Ringba customers.
If you're interested in working with Lead Smart, their link is below:
https://offervault.com/network/834/lead-smart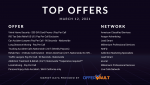 Pay Per Call Opportunities
Our friends over at
Nivio
, a call center outsourcing company that specializes in performance marketing related services, are looking for two sales people to bring on new customers who need call center outsourcing services. One in the United States, and another in Europe. Their clients include some of the biggest names in the affiliate industry including DFO Global and Snow Teeth Whitening. Strong base plus commission is available, along with extensive travel to trade shows all over the world. If you're interested in this position you can apply by sending your resume to
careers@nivio.com
.
Policy Bind
(recently featured in a Ringba
case study
) is hiring a media buyer, affiliate manager, and a developer to add to their fast growing team. If you have Ringba operational experience that is a huge bonus. They specialize in insurance related calls and leads. If you are interested in working with Policy Bind, shoot your resume to
hr@policybind.com
for consideration.
News and Announcements
If you are headed to
Lead Generation World
for the first in-person industry conference since the beginning of the pandemic the Ringba team would love to meet you with you. We will be there March 21-23rd. If you'd like to schedule a meeting or hang out at our client dinner, please reach out to your Ringba representative, or shoot us an email at
sales@ringba.com
.
Thank you for watching this week's episode of "
The Pay Per Call Report
" and a big thank you to our friends over at OfferVault for providing us with up to the minute market data and helping us analyze the top pay per call trends. Be sure to tune in every Friday afternoon and
subscribe to our YouTube channel
to stay on top of changes in the industry. If you are a Ringba customer and would like to be featured on the show, please contact your representative for more information.