This week's episode of Ringba's "Pay Per Call Report" for June 11, 2021 featuring market data and industry insights provided by OfferVault.
Top Categories
In another week of total domination, Home Services claims the number one spot on the top categories list. This will be their ninth consecutive week in the number one spot. Legal remains in the second position, though Insurance begins to close the gap between third and second place. Personal Insurance overtakes Financial Services this week for the fourth spot, it's been a back and forth battle between these two categories and we're excited to see how things pan out next week.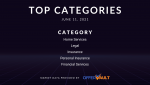 Top Offers
It's been a tight race for the top offer position, and this week Netfly beat Addiction Marketing Specialists for the top spot. Aragon Advertising remains in the third position closing the gap between the third and second spots, while American Classified Services overtakes HyperTarget Marketing for the fourth spot closely following Aragon Advertising.
Top Networks
HyperTarget Marketing continues to claim the number one spot on the top networks list. The difference between the first and second top networks widens, but Lead Smart remains strong in second place.
Aragon Advertising struggles to keep up with the top two networks, but continues to hold the third spot. MarketCall follows closely behind, and American Classified Service jumps up on the top networks list claiming the fifth position.
This week, 4 of the top 5 pay per call networks are Ringba customers.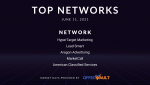 Pay Per Call Trends
For more market insights, we turn to our industry expert, Carlos Corona, founder and CEO of Unik Media Group.
"Carlos, from the students you've taught, what separates the publishers that have done well from those who have not and what resources do you recommend to those just getting into pay per call?"
"What really separates the students who de well from that well from the ones that don't is how dedicated they are to learning and getting educated. How laser focused they are. For some publishers it can be overwhelming so they jump from one to another until they find what works. Others will stick with one and work with that until it is profitable, and then go to the next one.

As far as resources, I would recommend Ringba. I'm a huge advocate for Ringba. I think its an amazing tool that everyone should have. I also think that mastering media buying is an important tool. Mastering Google Ads and Facebook Ads, etc. so that everything runs smoothly."
-Carlos Corona, founder and CEO of Unik Media Group.​
For the full clip, skip to
2:52
in the video.
Pay Per Call Opportunities
Inbound Media Group
is an inbound digital marketing agency with core services including, pay per call, search, content creation, lead generation, social media marketing, and conversion optimization. They're looking for more buyers in Insurance (medicare, FE, auto, u65, life), home services, legal. If you're interested, please reach out to your representative or
sales@ringba.com
for further details.
Pay Per Call Careers
Ringba is looking for more sales people to join our amazing team. No industry experience or college degree required, just a positive attitude, a desire to learn, and the willingness to put clients first at all times. Our sales people can make unlimited commissions, travel the world, and have the freedom to work from anywhere they want. Interested? Email
sales@ringba.com
to learn more.
Thank you for watching this week's episode of "
The Pay Per Call Report
" and a big thank you to our friends over at OfferVault for providing us with up to the minute market data and helping us analyze the top pay per call trends. Be sure to tune in every Friday afternoon and
subscribe to our YouTube channel
to stay on top of changes in the industry. If you are a Ringba customer and would like to be featured on the show, please contact your representative for more information.