This week's episode of Ringba's "Pay Per Call Report" for August 6, 2021 featuring market data and industry insights provided by OfferVault.
Top Pay Per Call Categories
Home Services claims the top spot on the top categories list once again this week. Legal remained in second, and Insurance remained in third place. Financial Services stayed in fourth place while Personal Insurance claimed fifth place.
Top Pay Per Call Offers
Netfly remains number one, for the sixth week in a row, with its trucking accident calls campaign. Addiction Marketing Specialists and Aragon Advertising went head to head this week, but Addiction Marketing Specialists remained in second place while Aragon Advertising and its IRS Tax Debt relief campaign remained in third place. eLocal stayed in fourth place with Addiction treatment and rehab calls. Aragon Advertising placed in fifth as well with its Vivint Home Security Calls.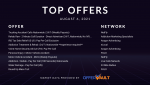 Top Pay Per Call Networks
Lead Smart overcame HyperTarget Marketing for first place this week. MarketCall climbed up to third but still trails behind the top two networks. Aragon Advertising claimed fourth position this week, and eLocal takes fifth place.
This week, all 5 of the top 5 top pay per call networks are all Ringba customers.
We'd like to thank our friends over at OfferVault for providing us with up to the minute market data and helping us analyze the latest changes in the pay per call industry.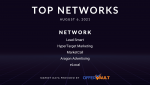 Pay Per Call Trends
For more market insights, we turn to our industry expert Bill Somerville, founder of PolicyBind.
Bill, How can Pay Per Callers start preparing now for open enrollment?
If you're planning on Marketing on Google - you need to get your G2 Cert from Google ASAP. This means studying for the Health & Life exam - which Kaplan recommends you study for 35-40 hours (over two weeks that's 2.5-3 hours per day.
You'll want to be licensed in all the largest populated states - So TX, FL, CA, NY, IL, etc! And make sure you get G2 certs for that as well.
Also make sure you are reaching out to Carriers and IMO/FMO's now if you plan to sell direct. It takes a WHILE to get through compliance - you don't want to start the process 30 days out from OE/AEP…. You'll be given a low cap… if you even get in.
If you are unsure or just want to test the waters in insurance - look to market on Social Media, and leverage Networks that already have cap and a relationship with compliance!
- Bill Somerville, Founder PolicyBind​
For the full clip, skip to in the video.
Pay Per Call Opportunities
Elite-Calls
is seeking seasoned search publishers for their internal pay per call campaigns. Their verticals include: Inbound Calls for Medicare, Health Insurance, and Moving Inbounds. If you're interested, please reach out to your Ringba representative or send an email to
sales@ringba.com
for further details.
Pay Per Call Careers
The Ringba team is rapidly expanding, and we are looking to hire multiple roles: Sales with unlimited commission opportunities, Vue User Experience Developers and Senior .Net Engineers. Ringba team members have the ability to work anywhere they want, and if you're interested in joining our innovative and client-oriented team, we'd love to hear from you! Send your email to
sales@ringba.com
along with your resume to learn more.
Thank you for watching this week's episode of "
The Pay Per Call Report
" and a big thank you to our friends over at OfferVault for providing us with up to the minute market data and helping us analyze the top pay per call trends. Be sure to tune in every Friday afternoon and
subscribe to our YouTube channel
to stay on top of changes in the industry. If you are a Ringba customer and would like to be featured on the show, please contact your representative for more information.