Are you attending Affiliate Summit East in New York? Are you looking to connect with the top decision-makers, account managers, affiliates, publishers, buyers, and technology providers in the pay per call space? Join us for great food, drinks, and your chance at winning $250,000.00!*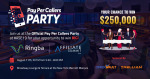 Where:
Broadway Lounge & Terrace at New York Marriott Marquis
When:
Sunday, August 11, 2019 from 5:30 - 8:00 PM
We'd like to extend a special thank you to our sponsors,
OfferVault
and
Trellian
for helping us put together this amazing event.
Immediately following the Sunday Meet Market, take a quick escalator ride up the the Broadway Lounge and Terrace to mix and mingle with all the most important players in Pay Per Call.
Make sure you RSVP immediately -- we have absolutely no doubt this event will hit capacity and fast. Ringba, OfferVault and Trellian customers please contact your account managers for guaranteed VIP access.
*For contest terms and conditions please see the bottom of the RSVP page at:
https://www.eventbrite.com/e/pay-per-callers-party-at-affiliate-summit-east-2019-tickets-64740386238
Last edited: