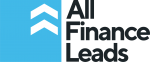 About All Finance Leads:
All Finance Leads helps clients who need customers in all financial service verticals, including debt settlement, debt consolidation, debt relief, credit repair, reverse mortgage leads, refinance leads, IRS tax debt relief leads, and more.
A rapidly growing business in the financial sector, All Finance Leads is led by an expert team with year of experience in performance marketing, lead generation, and business development. We believe in providing intrinsic value to our customers, developing a keen understanding of the market, creating strong relationships with our partners, and constantly driving innovation.
URL
Contact Email
Verticals

Finance
Last edited: